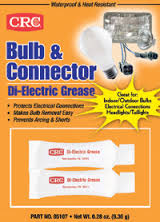 ACR 0510-7

0.28OZ DIELECTRIC GREASE (BULB & CONNECTOR)

A unique, non curing compound use for sealing, protecting and electrical insulating.
1) Improve electrical performance by reducing arching, voltage drop and other condition.
Ideal for lubrication plastic and rubber.
2) Apply on electrical connection, circuit breaker, contacts, spark plug boots, trailer connection.
3) Also on HEI distributor, battery terminal.
4) Lubrication on plastic, rubber parts and o-ring.