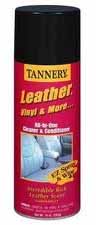 ACR 4017-3

10OZ TANNERY LEATHER, VINYL & MORE CLEANER AND CONDITIONER

Clean, condition, protect, preserve leather, vinyl, rubber, plastic, trim and fiberglass.
1) Help guard against to sunlight and extreme weather.
2) Penetrate and nourish surface affected by element.
3) Restore luster and never leave a slick film.
4) Application to bumper, dashboard, fiberglass, jet skis, leather , patio furniture, sporting good and tire.
5) Non flammable.