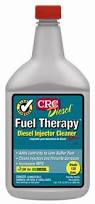 ACR 0521-2

12OZ DIESEL FUEL THERAPY

Diesel injector cleaner, reduce black smoke, provides top tier clean up with max treat.
1) Adds lubricity to low sulfur fuel.
2) Cleans injectors and prevents corrosion.
3) Emissions reducing formula rated superior in Cummins L-10 test for injector cleanliness.
4) Stabilizer fuel, increase MPG.
5) Prevent corrosion, increase power.
6) Pour into diesel filter and diesel tank.