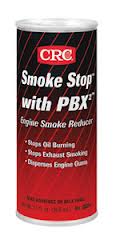 ACR 0533-4

12OZ SMOKE STOP W. PBX2

A concentrated oil treatment, specifically design for excessive exhaust smoking and oil burning.
1) Harmless to catalytic converters.
2) Will no compensate for defective or extremely worn parts that need overhaul or replacement.
3) Apply to automobile, boats, buses, motorcycles, tractors and trucks.