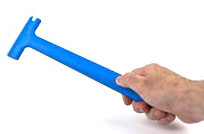 HCT 0623

HANDY 300 GLASS SCRAPER

Handy MK2 Glass Scraper 300 is a specially design with longer handle 300mm in any industrial, there are from cleaning industrial, aquarium dealer to household.
It easily removes paint, tape, stickers, construction debris, algae etc.
The scarper blade came with two meterial, there are stainless steel and carbon steel.