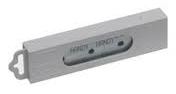 HCT 0627-SS

HANDY MK2 0.15MM*70MM REPLACMENT BLADE-S.S.(10PC)

These is stainless steel blade with 1.5mm thickness and 70mm width, which is perfectly to remover stuborn article such as paint, tape, sticker, construction debris, algae etc.
Stainless steel blade is best use for aquarium cleaning, because it could reusable for certain times.
The blade came with economy pack for regular user.